The Cathedral Shop in the University of Tartu Museum has a large selection of unique and practical gifts. Here you can find a beautiful mug with gems for a colleague, a university-themed book for your parents, or a fun toy for a child. Related souvenirs will be made available during major exhibitions. 
The shop's products are sold in the University of Tartu Museum at Toomemägi (Toome Hill), in the University of Tartu Art Museum, and at the Old Observatory. A small selection of the museum's memorabilia is available from the university's online store. 
The opening hours of the Cathedral Shop are the same as those of the museum. Payment can be made either in cash or with a card. 
For children and others
Our exciting and educational toys are the perfect birthday gifts for children and adolescents of all ages.
For international visitors
The Cathedral Shop has a selection of souvenirs of the city and the university. Want to send a postcard to a friend? We have both postcards and stamps.
For the hungry
In the Cathedral Shop, you can enjoy coffee on the spot or to take away. Hungry? Try our sweet and savoury snacks.
For staff and students
At the Cathedral Shop you'll find souvenirs for both students and alumni of the University of Tartu and for their guests. For example, you can buy university-themed shirts, hoodies, books, shopping bags and mugs.
For art and design lovers
The Cathedral Shop sells handmade jewellery for both women and men, engraved gems made by students of the Estonian Academy of Arts, and reproduced art to hang on your walls.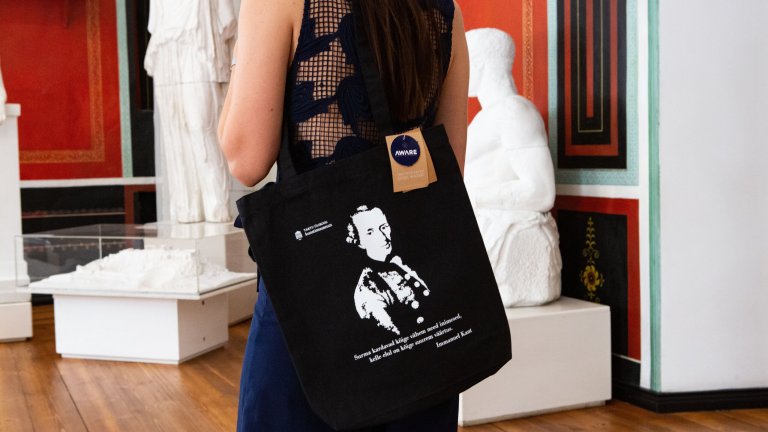 For museum visitors
You can also buy special souvenirs related to museum exhibitions. We sell Chinese and Japanese fans from the exhibition "From Ancient and Forgotten Times", shoulder bags, magnets and postcards from the exhibition "Face of Death. Life's Vigour Through Death Masks" – and much more!
Cathedral Shop's products in the university's online store
If you can't make it to Toomemägi, you can still find some of our products available in the online store of the University of Tartu.
Find out more